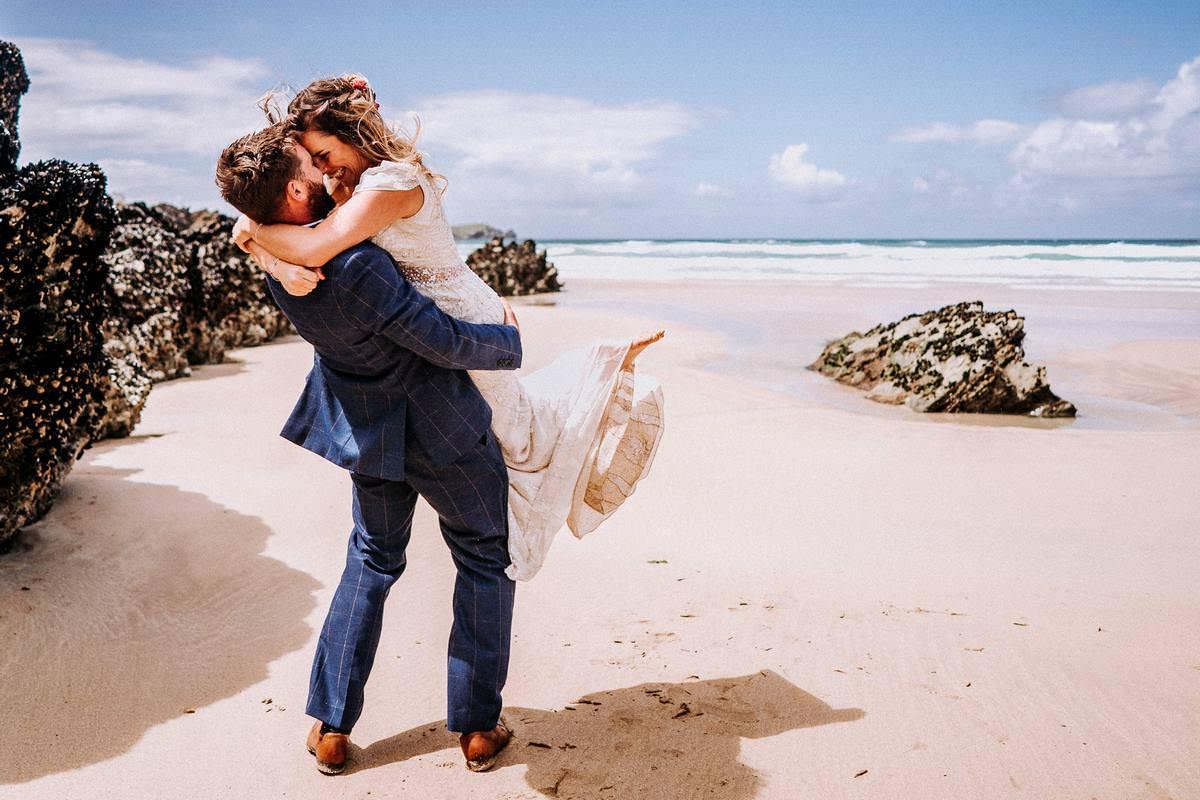 Lusty Glaze Wedding Photography
What can I say, Dan was the most perfect photographer in every way. Firstly, his skill is out of this world, he is a complete genius behind the camera, our wedding photos are better than we could ever have expected and captured the essence of the day perfectly, they are priceless and something we can treasure for ever!
Secondly, he's just such a nice guy, a lovely addition to your wedding party. He makes you feel super comfortable and you can't even tell he's there half the time. I would have no hesitation recommending Dan, if you're in need of a photographer, look no further! Trust me!
Thank you Dan for being the legend that you are!
Drop what you are doing, get yourself a drink, sit back and feast your eyes on the most amazing Lusty Glaze wedding photography you are likely to ever see!!
Let me start by saying, from the first few emails, I knew that Sarah and Dale's wedding was gonna be absolutely amazing. Their whole brief was, and I quote, for 'everyone to just have a bloody good time', which I think is the most important part of a wedding and a complete success! From the outset, I just knew these guys were gonna be cool and this day was gonna rock!!
If you are gonna have an epic wedding and you want it to really encapsulate what being in Cornwall is, having your day at Lusty Glaze weddings in Newquay should definitely be on your mind. Choosing Lusty Glaze means you can have a private beach all to yourself, which is exactly what Sarah and Dale did! Just you, your guests and that epic beach view, what could be finer? It's made such a change as i've recently been shooting more and more as a devon wedding photographer.
Sarah and Dale invited all their guests down to Newquay to Lusty Glaze to spend the weekend to help them celebrate their epic wedding. The day was Cornwall at it's absolute best, bathed in sunlight and some epic sunset goodness for some couple shots in the evening. Glorious day to be a wedding photographer at Lusty Glaze I'm here to tell you!!
The ceremony was super emotional, the couple choose to do their own personal vows which were super cute and included so much love, tears and happiness. Just a dream to photograph as a documentary wedding photographer, making my job super super easy.
The day heated up with some super competitive (and very very funny to watch) volleyball tournament between the guys and girls, followed by a surprise plane driving by with their names on organised by one of the fab bridesmaids! Honestly one of the most amazing things i've ever seen at a wedding! Everyone went crazy and it made for one of my favourite images from this whole day! Sarah running after the plane with a glass of wine in her hand!!
Everyone pulled out all the stops and made some super emotional (and very very funny speeches!) as well, which were honestly some of the best I've heard! With it being high summer, the couple had their first dance whilst it was still light, which meant they did their epic dance, then it was shades on for everyone to get down, dance and party on!!
I'm extremely lucky to have shot lots and lots of weddings and elopements at Lusty Glaze over the years, i've easily shot 10-15 weddings there so I know it super super well! I'm super excited to be shooting some more Lusty Glaze Wedding Photography next year! Getting married there yourselves? Get in touch guys, lets's have a chat 🙂